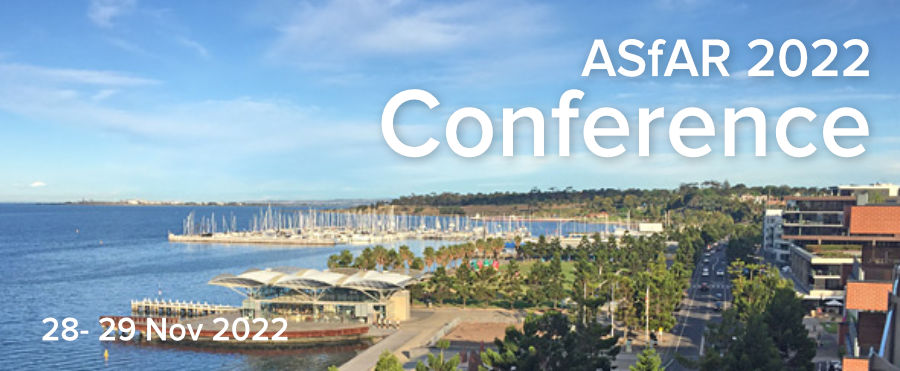 ASfAR warmly invites you to our 2022 conference which will be held in person on the 28th and 29th November 2022 hosted by Deakin University at the Deakin Waterfront Campus in Geelong, Victoria.
Dates
Monday 28th and Tuesday 29th November 2022
Venue
In person conference at Deakin Waterfront Campus, Geelong, Victoria
See https://www.deakin.edu.au/about-deakin/locations/campuses/geelong-waterfront
Registration
Registration for the ASfAR 2022 Conference is free for ASfAR members and is now open.
Before you register for the 2022 Conference
Everyone who registers for the conference must be a current ASfAR member – you can check if you are a current member by trying to log into the members page here
If you are not a current member, you will need to join or rejoin ASfAR before you can register for the conference. Please note that the fee for ASfAR membership remains consistent regardless of when in the membership cycle (1st Jan 2021-31st December 2022) you join.
To register for the Conference
Once you have confirmed you are a current member or once you join ASfAR at https://asfar.org.au/membership please register for the conference here: redcap.link/asfar2022rego
Registrations must be received by 01:00am AEST on 1st November.
Keynote & Invited Speakers
Keynote Speaker Prof Alison Lane (OTARC). Making sense of sensory experiences in autism: the path forward.

Keynote Early Career Researcher Speaker Dr Gail Alvares (Telethon Kids Institute): The prevention of mental health difficulties in childhood: A pipedream or a paradigm shift for mental healthcare?

Keynote Autistic Researcher Speaker Dr Melanie Heyworth (Macquarie University, School of Education). Reaching the right people: Community perceptions of Autism research.
To find out more about our keynote speakers, please see https://asfar.org.au/keynote-speakers-2022/
Submission of Abstracts
The abstract submission for the 2022 ASfAR conference is now closed.
SPONSORS
ASfAR 2022 CONFERENCE SPONSORS
Read More