ASfAR was founded in 2011 as a member based organisation devoted to advancing
knowledge about Autism Spectrum Disorders through research and scholarship. ASfAR has
built considerable relationships among the research community to support this role. These
include a relationships with:
ASfAR wishes to congratulate ASfAR Executive Committee member Professor Sylvia Rogers on her recent appointment to Membership of the Order of Australia this Australia Day. Sylvia's considerable work in support of Autism research, broader developmental research, occupational therapy, and children with disability has assisted many children and improved their quality of life. The ASfAR Committee is proud that Sylvia has lent her considerable scholarship to ASfAR.
---
Sylvia Rodger Memorial Fund
It is with considerable sadness that I report. Many of you will already know that Professor Sylvia Rodger passed away on Friday, the 28th of April.  Sylvia's contribution to ASfAR has been considerable and her impact within ASfAR and within the wider community of autism is remarkable.  Despite her illness over many years, she was a surprisingly vital and optimistic person.  Her passing is a deeply regretted surprise.
Sylvia's funeral is being held today (4th of May, 2017), and her family has requested flowers are not sent. It was Sylvia's request that, instead, donations be made to two charities of her choice (please see here https://www.gofundme.com/sylvias-memorial-donation-page?utm_source=internal&utm_medium=email&utm_content=body_photo&utm_campaign=upd_n).
Consequently, Cheryl Dissanayake, David Trembath, and I believe that ASfAR should make some donation to Sylvia's charities in recognition of her.  As ASfAR is a registered charity, it is not appropriate or strictly legal that we donate members funds to another charity with different purposes.  Hence, I propose that we each, as members of the committee agree to donate $20 which we will pass to her charities in ASfAR's name.
We setup a link below to take donations to the Sylvia Rodger's fund in ASfAR's name.  I would ask you each to donate, if you can, to this worthy cause.
Mark Stokes
President
---
Expressions of interest to host state based conference
Expressions of interest (EOI) to host a state based conference are now open.  ASfAR will provide funding to support state-based conferences in the alternate years to the national biennial ASfAR meeting held in 'even' years (e.g., 2012/2014/2016). Up to two meetings will be supported in any given year. Priority will be given to meetings that offer: (1) strong institutional support, (2) the ability to host a keynote speaker (national or international), and (3) suitable conference facilities.  The conference must be offered without any fee or charge to all financial members of ASfAR.  Forms are available here: ASfAR State-based Conference EOI Form.
---
Regional IMFAR
Call for Abstracts Deadline: April 17, 2017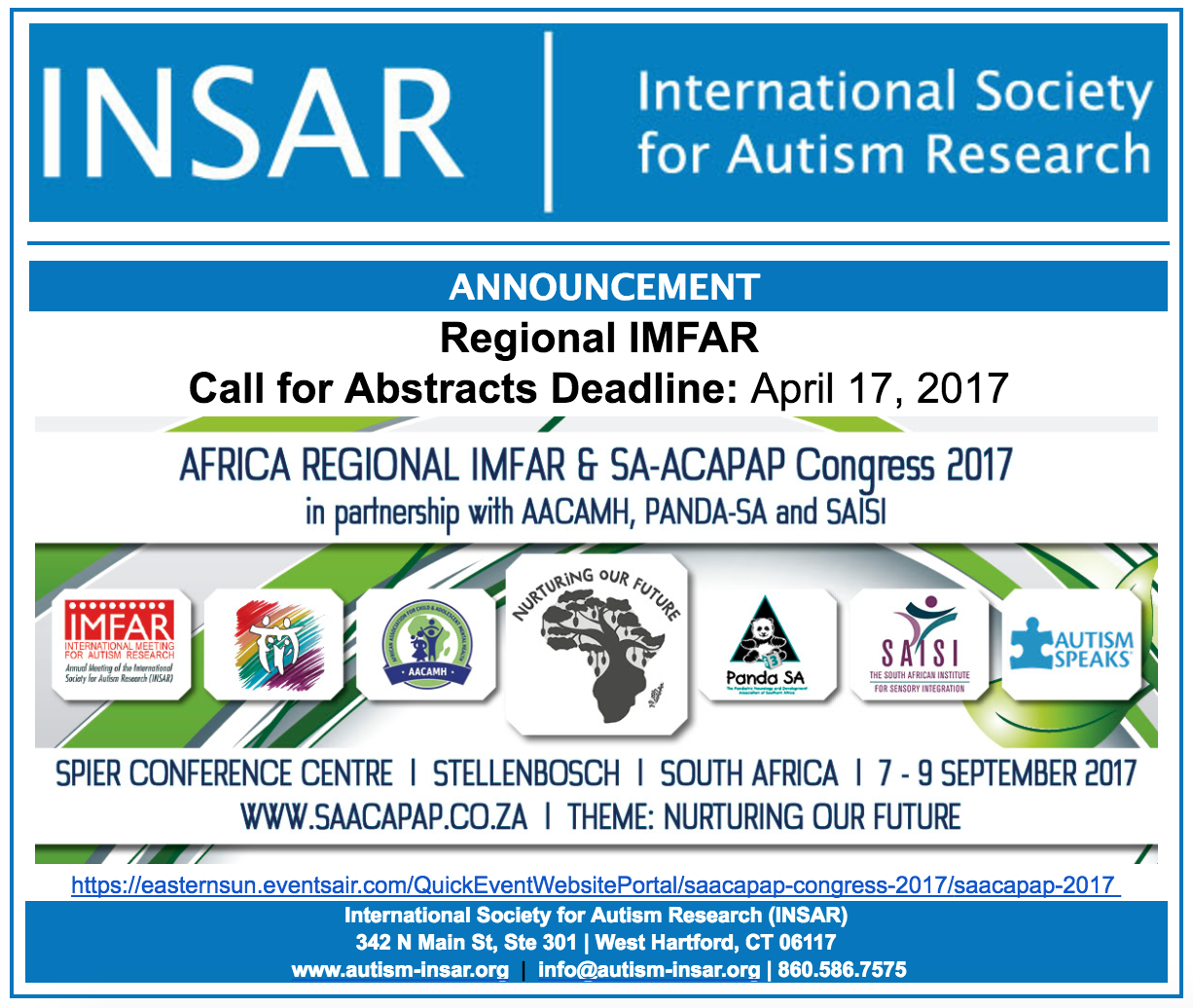 More information: https://easternsun.eventsair.com/QuickEventWebsitePortal/saacapap-congress-2017/saacapap-2017
---
INSAR's President's Message in response to travel ban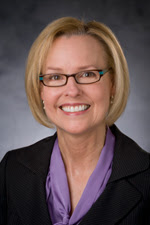 The Board of Directors of the International Society for Autism Research (INSAR) is deeply troubled about the potential negative impact of President Trump's Executive Order concerning restrictions on immigration to the United States on a core part of the INSAR mission: To promote collaboration among researchers, students, clinicians, and stakeholders worldwide to better the lives of individuals and families living with autism spectrum disorder (ASD).
Autism science is greatly enriched by collaborations and ideas from all over the globe. INSAR joins with the Association of American Universities (AAU) in urging that "the administration's new order barring the entry or return of individuals from certain countries…should end as quickly as possible." We support the AAU's call for the United States to continue "to welcome the most talented individuals from all countries to study, teach, and carry out research and scholarship at our universities."
The new travel restrictions are perplexing and unsettling. They will potentially prevent researchers, scientists, and stakeholders from the seven identified countries from sharing their research at the May 2017 International Meeting for Autism Research (IMFAR) in San Francisco, California. Nearly 25% of the 2016 INSAR meeting's 2,000 attendees were from non-United States countries. About 30% of INSAR members represent non-United States countries. If the ban remains, it could prevent non-United States-based ASD thought and research leaders from attending future United States-based conferences. Furthermore, United States-based scholars from the identified countries who hold visas or green cards may not be able to travel to INSAR meetings when they are held outside of the United States. This will have a direct, detrimental impact on our scientific community, scientific progress, and those who benefit from the research that we conduct and disseminate. Ultimately, we believe that this will slow progress in understanding autism and related disorders and in finding more effective treatments to lessen disabilities for those affected.
As an organization, we must think carefully about whether to host future international meetings for autism research in the United States. As an international society, it would be inappropriate to hold the largest annual meeting on autism research in any country that restricts access to our colleagues worldwide.
As the Board of Directors of INSAR, we are unanimous in our denunciation of restrictive immigration policies that will impact researchers, students, and persons with autism and their families. The INSAR Board of Directors will be bringing these concerns to the attention of policy makers and the public. As members of INSAR, we encourage you to do so as well. This article also appears on the INSAR website.
Sincerely,
Geraldine Dawson, PhD
President, International Society for Autism Research
Duke University
Board Members:
Simon-Baron Cohen, PhD
President-Elect
Cambridge University
Craig Newschaffer, PhD
Vice-President
Drexel University
David Amaral, PhD
Autism Research, Editor
University of California, Davis
Francesca Happé, PhD
Past-President
Kings College London
Katarzyna Chawarska, PhD
Secretary
Yale University
Raphael Bernier, PhD
Treasurer
University of Washington
James McPartland, PhD
Past-Treasurer
Yale University