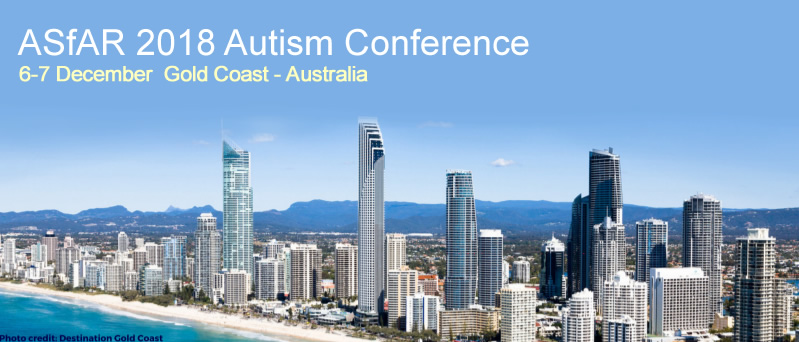 The Australasian Society for Autism Research (ASfAR) Conference will be held at Griffith University, Gold Coast, on 6 & 7 December 2018. 
Abstract Call
The deadline for abstracts has been extended until 5pm AEST Monday 16 July.  We are calling for abstracts that have focus on autism research. Delegates have an opportunity to present at this conference in the following ways:
 15 minute podium presentation
3 minute e-Poster podium presentation (one slide with 2 minutes for questions)
Poster presentation
For further information, to preview the submission form and/or to submit your abstract, please visit:
https://www.surveymonkey.com/r/ASfAR2018
We advise drafting your abstract offline as you will not be able to save or edit your submission.
Reviewer Expressions of Interest
We are also asking for expressions of interest to assist with abstract review; to previous the expression of interest form and/or to express interest as a reviewer please visit:
https://www.surveymonkey.com/r/ASfARreviewer
Conference convenors: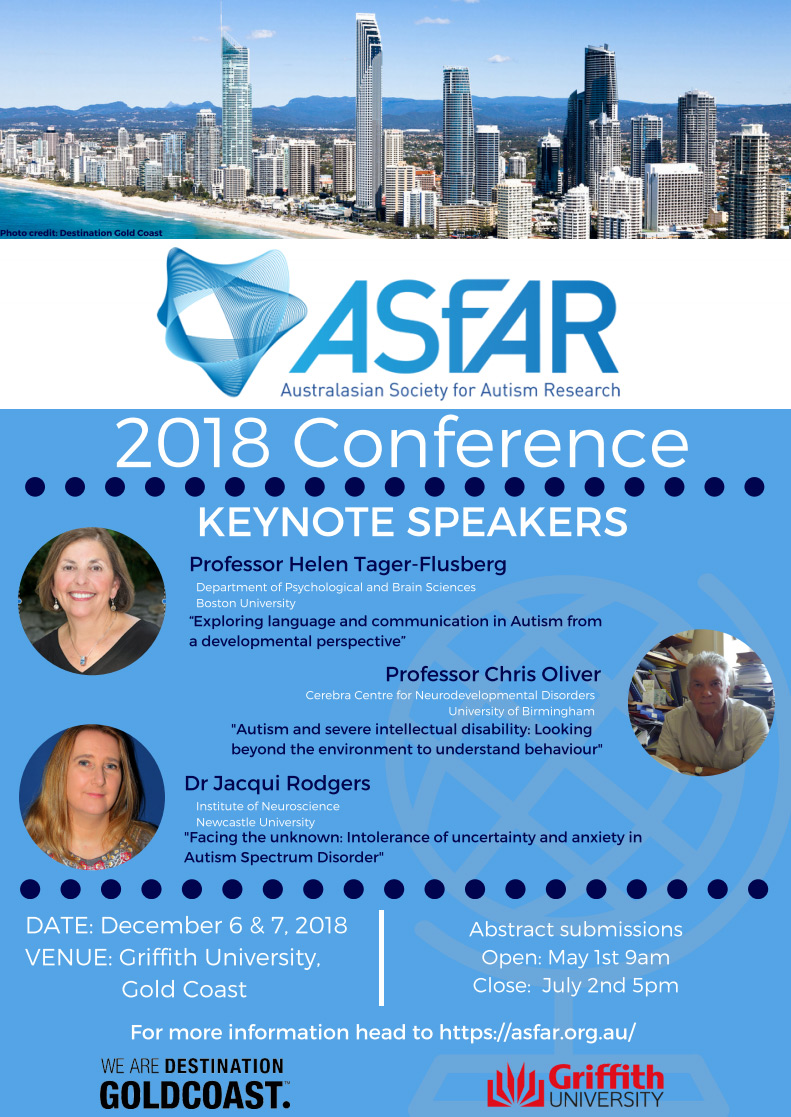 2018 Conference flyer (pdf)
ASfAR success at INSAR
ASfAR members had extraordinary success at the recent INSAR meeting in Rotterdam in May. In addition to the many papers and posters presented at the meeting by Australian scholars, our inaugural ASfAR lifetime member, Professor Margot Prior, received the society's highest award, the INSAR Lifetime Achievement Award.  A very proud moment for those of us there.
Professor Cheryl Dissanayake, ASfAR vice-President, was one of 10 scholars to  receive an inaugural INSAR Fellowship in recognition of her sustained contribution to autism science. Another proud moment.  Finally, Dr Melissa Scott was one of three scholars to receive an INSAR Dissertation award.
ASfAR congratulates Professor Margot Prior, Professor Cheryl Dissanayake, and Dr Melissa Scott on these excellent and well deserved outcomes.
---
Autism CRC announces Research Co-Production Partner initiative
Autism CRC has announced they are now accepting applications from organisations that demonstrate commitment to research co-production on a sustained basis and would like to be recognised as Autism CRC Research Co-Production Partners.
Evidence demonstrates that engaging individuals on the spectrum and their families and carers as peers in research – from the definition of need to the conduct of research and its application – promotes quality, translatable research relevant to the needs of the community. To highlight those organisations who are committed to sustainable research co-production, Autism CRC has established its Research Co-production Partner initiative.
Autism CRC is looking for organisations that demonstrate:
commitment to co-production: through completed, continuing and research yet to commence
appropriate engagement and recognition: co-producers on the spectrum and/or their families/carers have been, and will continue to be, engaged, recognised and rewarded appropriately
sustainability of co-production: the organisation takes a sustained approach to research co-production, including promotion of co-production internal or external to their organisation.
The deadline to submit an application is 13 June 2018. For more information, please visit the Autism CRC website.
---
In memoriam of Professor Sylvia Rodger
ASfAR wishes to recognise our former Executive Committee member Professor Sylvia Rodger for her many achievements, including her appointment to Membership of the Order of Australia on Australia Day, 2017. Sylvia was generous in support of Autism research, broader developmental research, occupational therapy, assisted many children, and improved their quality of life. The ASfAR Committee is deeply grateful that Sylvia lent her considerable scholarship and skill to ASfAR. With her passing in 2017, Sylvia will be sorely missed by all who were involved with her.
---
ASfAR was founded in 2011 as a member based organisation devoted to advancing knowledge about Autism Spectrum Disorders through research and scholarship. ASfAR has built considerable relationships among the research community to support this role. These include a relationships with: